Ethiopias prime minister urges world leaders to avoid 'interference' in Tigray conflict – Fox News
https://www.foxnews.com/world/ethiopias-prime-minister-urges-international-community-refrain-from-interference-in-war
Ethiopia's prime minister is rejecting growing international consensus for dialogue and a halt to deadly fighting in the Tigray region as "unwelcome," saying his country will handle the conflict on its own as a 72-hour surrender ultimatum runs out on Wednesday.
"We respectfully urge the international community to refrain from any unwelcome and unlawful acts of interference," the statement from Prime Minister Abiy Ahmed's office said as government forces encircled the Tigray capital, Mekele, with tanks. "The international community should stand by until the government of Ethiopia submits its requests for assistance to the community of nations."
WITH ETHIOPIA ON BRINK OF ESCALATION, DIPLOMACY IN DOUBT
The government led by Abiy, last year's Nobel Peace Prize winner, has warned Mekele's half-million residents to move away from the Tigray People's Liberation Front leaders or there will be "no mercy" — language that the United Nations human rights chief and others have warned could lead to "further violations of international humanitarian law."
But communications remain almost completely severed to the Tigray region of some 6 million people, and it is not clear how many people in Mekele are aware of the warnings and the threat of artillery fire.
Diplomats on Tuesday said U.N. Security Council members in a closed-door meeting expressed support for an African Union-led effort to deploy three high-level envoys to Ethiopia. But Ethiopia has said the envoys cannot meet with the TPLF leaders.
"This conflict is already seriously destabilizing the region," European Union foreign policy chief Josep Borrell said Tuesday after meeting with Ethiopia's foreign minister.
"Both sides should immediately begin dialogue facilitated by the AU," the national security adviser for U.S. president-elect Joe Biden, Jake Sullivan, tweeted.
The Tigray regional leader, Debretsion Gebremichael, could not immediately be reached Wednesday as tensions were high among Mekele's residents.
The TPLF dominated Ethiopia's government for more than a quarter-century, but was sidelined after Abiy took office in 2018 and sought to centralize power. The TPLF opted out when Abiy dissolved the ruling coalition, then infuriated the federal government by holding an election in September after national elections were postponed by COVID-19. Each side now regards the other as illegal.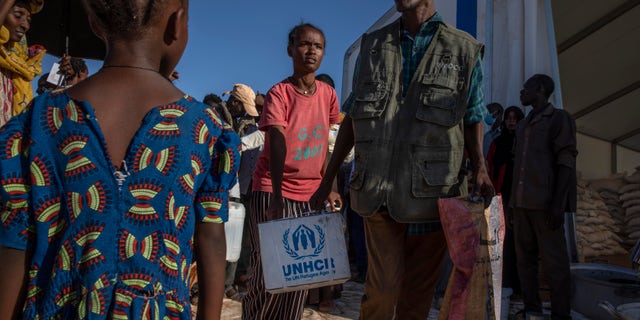 One Ethiopian military official claims that more than 10,000 "junta forces" have been "destroyed" since the fighting began on Nov. 4, when Abiy accused the TPLF of attacking a military base. Col. Abate Nigatu told the Amhara Mass Media Agency that more than 15,000 heavy weapons and small arms had been seized.
The international community has urgently called for communications to be restored to the Tigray region so warring sides' claims can be investigated, and so food and other desperately needed supplies can be sent as hunger grows. The U.N. says it has been unable to send supplies into Tigray and that people there are "terrified."
Hundreds, perhaps thousands, of people have been killed in three weeks of fighting. More than 40,000 refugees have fled into Sudan. And nearly 100,000 Eritrean refugees at camps in northern Tigray have come close to the line of fire.
Misery continues for the refugees in Sudan, with little food, little medicine, little shelter, little funding and little or no contact with loved ones left behind in Tigray. "We are absolutely not ready," said Suleiman Ali Mousa, the governor of Qadarif province.
"Help us so that we don't die," said one refugee, Terhas Adiso. "We came from war. We were scared we were going to die from the war and we came here. We don't want to die of hunger, disease. If they are going to help us they need to help us quickly. That's all I am going to say."
Meanwhile, reports continue of alleged targeting of ethnic Tigrayans, even outside Ethiopia. Three soldiers serving with the U.N. peacekeeping force in South Sudan were ordered home over the weekend, the force said in a statement. The Associated Press has confirmed the repatriated soldiers are Tigrayan.
CLICK HERE FOR THE FOX NEWS APP
"If personnel are discriminated against because of their ethnicity or any other reason, this could involve a human rights violation under international law," the statement said.
Abiy's government has said it aims to protect civilians, including Tigrayans, but reports continue of arrests, discrimination, house-to-house searches and frozen bank accounts.
Pennsylvania GOP pledges full allegiance to Trump – Politico
https://www.politico.com/news/2021/01/26/pennsylvania-republican-party-trump-support-462843
State Sen. Doug Mastriano, a potential gubernatorial candidate in 2022, traveled to the U.S. Capitol on Jan. 6 and even advertised a bus to take protesters there. In the weeks after the deadly riot, a right-wing state representative, Daryl Metcalfe, said on Facebook that the FBI called his office asking about the day of the insurrection and referred to the agency's tip line as a "snitch" line.
"It's not the party that I belonged to years ago," said Robert Byer, a former Republican judge and legal counsel for George H.W. Bush's 1988 presidential campaign in Pennsylvania. "The whole notion that officeholders could impugn the integrity of the election in our commonwealth, it bothers me greatly. It bothers me as a citizen."
In 2016, the hard-right turn of the state GOP was a boon for the party: Trump became the first Republican to win the presidential election in Pennsylvania in nearly 30 years. But since then, it has caused damage. After clinging to Trump, the GOP nominees for governor and senator in 2018 lost by double digits. Democrats also picked up House seats that year in part thanks to the Philadelphia suburbs, a former GOP stronghold. And in the fall, Biden took back Pennsylvania, again fueled by a Trump backlash in the populous suburbs of the state's largest city.
Next year offers another referendum on the Trumpification of Pennsylania Republicans: There will be rare open seats for both governor and senator. Democrats and Never-Trump Republicans promise to ensure that swing voters remember the efforts to overturn the state's presidential election results based on allegations that were without evidence. Republicans say the party's pro-Trump base will be energized by lawmakers who railed against election fraud and objected to Biden electors.
"They're very happy that they stood up for them," said former GOP Rep. Lou Barletta, a top Trump ally, of how the president's supporters see lawmakers who sought to block the state's Electoral College results. Barletta, who is eyeing a gubernatorial campaign, said "we should not go back to the old Republican Party for this reason: The Republican Party today has grown more to represent the working men and women."
As the newly emergent face of Pennsylvania's MAGA movement, Perry's recent actions "would make him a high-up target on our list," said Sarah Longwell, co-founder of the Republican Accountability Project, which plans to spend $50 million supporting GOP lawmakers who impeached Trump and ousting the former president's loyalists. "Anybody who sought to help the president strong-arm officials in Georgia, work to overturn the results of a free and fair election, should be held accountable."
The stunning revelation that Perry, until recently a congressman little known outside Pennsylvania, took the highly unorthodox step of introducing Department of Justice lawyer Jeffrey Clark to Trump was made public over the weekend. As first reported by The New York Times, Clark went on to unsuccessfully try to force out acting Attorney General Jeffrey Rosen. Perry also reportedly talked with Clark and Trump about the prospect of a Justice Department letter to Georgia state legislators claiming that a voter fraud probe could change the election in the state, which Biden won.
In a statement to reporters, Perry confirmed his role in introducing the two men as well as their general discussions about the election, but provided few other details.
"Throughout the past four years, I worked with Assistant Attorney General Clark on various legislative matters. When President Trump asked if I would make an introduction, I obliged," he said. "My conversations with the President or the Assistant Attorney General, as they have been with all with whom I've engaged following the election, were a reiteration of the many concerns about the integrity of our elections, and that those allegations should at least be investigated to ease the minds of the voters that they had, indeed, participated in a free and fair election."
Political insiders in Pennsylvania attribute the shift rightward in the state's Republican Party to a combination of familiar factors: Trump's presidency, the role of gerrymandering in creating highly partisan districts, the polarization fed by cable TV, and social media.
"Low-turnout primary elections reinforced in districts drawn by gerrymander not surprisingly makes it easier for extreme candidates to do well," said David Thornburgh, president of the good government group Committee of Seventy and son of the late centrist governor. "My dad's wing of the party was the moderate-to-liberal northeastern Republican. You got to look awfully hard to find anybody that's left in that category."
The collapse of the GOP in and around Philadelphia's collar counties has also played a role. As the suburbs have become more liberal and the party has grown more socially conservative, moderate Republican lawmakers such as Ryan Costello and Charlie Dent have been succeeded by Democrats, a process that was hastened by the state Supreme Court's redrawing of congressional district maps in 2018.
"The Republican Party's recent political freefall in the southeast has resulted in a lot of centrist Republicans either not seeking reelection or losing reelection," said Philadelphia City Commissioner Al Schmidt, a Republican who has been targeted by Trump for pushing back against baseless claims of widespread voter fraud in the city. "It certainly lessened the influence of moderate Republicans."
Christopher Nicholas, a GOP consultant based in Pennsylvania, also pointed to population trends in central Pennsylvania as playing a role.
"Congressman Perry and Senator Mastriano come from conservative central Pennsylvania," he said. "There's always been a more conservative strain of the GOP here, and you couple the fact that central Pennsylvania is growing."
Even though moderates have lost significant power in the state's Republican Party, they are not quite dead yet — and some are looking for a comeback in 2022, especially at the statewide level where they have often fared better. Costello is inching toward a Senate bid for the seat held by retiring GOP Sen. Pat Toomey. Schmidt has left the door open to a higher office. Dan Hilferty, the former chief executive of Independence Health Group who has at times backed Democrats, is considering a gubernatorial run as a Republican.
The Republican Accountability Project said it will wait to see the outcome of redistricting this year — the state is due to lose one seat because of reapportionment — to decide its exact game plan when it comes to Perry and other pro-Trump lawmakers. But the group said it might air negative ads against Perry earlier than that. The Democratic Congressional Campaign Committee, meanwhile, is in talks with former Auditor General Eugene DePasquale, the Democrat who unsuccessfully tried to oust Perry in 2020, according to a person familiar with the discussions.
DePasquale and other Pennsylvania Democrats have called for Perry to resign, claiming that "he was part of an attempted coup." DePasquale predicted that the massive turnout surge for Trump that benefited Republicans last year "will not be in play in 2022." But his nearly 7-point loss to Perry — one of the biggest disappointments for Democrats in the state, which came after DePasquale raised millions of dollars and consistently polled well — shows the strength of conservative politicians in Pennsylvania.
"People here like the congressman," Nicholas said. "And I think that's always been Congressman Perry's saving grace, is that he's very, very, very conservative — unabashed about it — but he's a likable guy."