Live Trump vs Biden 2020 Election Updates – The New York Times
https://www.nytimes.com/live/2020/10/27/us/trump-biden-election
A divided Senate voted on Monday night to confirm Judge Amy Coney Barrett to the Supreme Court, capping a lightning-fast Senate approval that handed President Trump a victory days before the election and promised to tip the court to the right for years to come.
In a 52-to-48 vote, all but one Republican, Senator Susan Collins of Maine, who is battling for re-election, supported Judge Barrett, a 48-year-old appeals court judge and protégée of Justice Antonin Scalia.
Wasting no time, Mr. Trump held an unusual nighttime swearing-in ceremony for Judge Barrett on the South Lawn of the White House, a month to the day after a mostly maskless Rose Garden event attended by multiple people who later tested positive for the coronavirus, including Mr. Trump and the first lady. Though more precautions were taken at the ceremony on Monday, neither Mr. Trump nor Justice Barrett wore masks, perhaps because both already have had the virus and could be immune.
Justice Clarence Thomas, who swore in his new colleague, wore no mask, either, even though he is not known to have been previously infected. None of the other seven justices attended.
Mr. Trump praised Justice Barrett's "deep knowledge, tremendous poise and towering intellect," calling her a suitable replacement for Justice Ruth Bader Ginsburg, the liberal stalwart who died last month and was her ideological polar opposite.
In her remarks, Justice Barrett seemed intent on sending the message that she would not simply do Mr. Trump's bidding, using the words "independent" or "independence" three times, even though he has said explicitly that he wanted her seated before the election so she could lend her vote in case of a legal dispute over the balloting.
"A judge declares independence not only from the Congress and the president, but also from the private beliefs that might otherwise move her," Justice Barrett said after being sworn in. "The oath I have solemnly taken tonight," she added, "means at its core that I will do my job without any fear or favor and that I will do so independently of both the political branches and of my own preferences."
Neither Democrats nor Republicans seemed to believe that, instead commending or condemning her confirmation as a victory for conservatives and a defeat for liberals. Democrats immediately vowed on Monday night that there would be reprisals.
Representative Alexandria Ocasio-Cortez of New York called on Democrats to expand the court if they won the presidency and took control of the Senate, an idea that the Democratic presidential candidate, Joseph R. Biden Jr., has so far refused to co-sign. Mr. Biden instead has said that he would set up a bipartisan commission to look at ways to overhaul the court.
Senator Elizabeth Warren, Democrat of Massachusetts, excoriated her Republican colleagues in a fund-raising email to her supporters that was sent minutes after the vote.
"They stole another Supreme Court seat just eight days before the end of the election, after tens of millions of Americans had already cast their ballots, and just 15 days before the Supreme Court will hear a case that could overturn the Affordable Care Act," Ms. Warren wrote.
In a statement late Monday, the Biden campaign called the Barrett confirmation "rushed and unprecedented," and issued a call to action based on the Affordable Care Act case.
"If you want to say no, this abuse of power doesn't represent you — then turn out and vote," the statement said.
Justices can begin work as soon as they are sworn in, meaning Justice Barrett could be at work as early as Tuesday. The court is confronting a host of issues concerning the election and Mr. Trump's policies, including cases from North Carolina and Pennsylvania about whether deadlines for receiving mailed ballots may be extended. Under the court's usual practices, Justice Barrett cannot participate in cases that have already been argued, though they could be argued again before the full court if the justices are deadlocked.
Next Monday, the court returns to the virtual bench for a two-week sitting to hear arguments by telephone.
Ethiopias prime minister urges world leaders to avoid 'interference' in Tigray conflict – Fox News
https://www.foxnews.com/world/ethiopias-prime-minister-urges-international-community-refrain-from-interference-in-war
Ethiopia's prime minister is rejecting growing international consensus for dialogue and a halt to deadly fighting in the Tigray region as "unwelcome," saying his country will handle the conflict on its own as a 72-hour surrender ultimatum runs out on Wednesday.
"We respectfully urge the international community to refrain from any unwelcome and unlawful acts of interference," the statement from Prime Minister Abiy Ahmed's office said as government forces encircled the Tigray capital, Mekele, with tanks. "The international community should stand by until the government of Ethiopia submits its requests for assistance to the community of nations."
WITH ETHIOPIA ON BRINK OF ESCALATION, DIPLOMACY IN DOUBT
The government led by Abiy, last year's Nobel Peace Prize winner, has warned Mekele's half-million residents to move away from the Tigray People's Liberation Front leaders or there will be "no mercy" — language that the United Nations human rights chief and others have warned could lead to "further violations of international humanitarian law."
But communications remain almost completely severed to the Tigray region of some 6 million people, and it is not clear how many people in Mekele are aware of the warnings and the threat of artillery fire.
Diplomats on Tuesday said U.N. Security Council members in a closed-door meeting expressed support for an African Union-led effort to deploy three high-level envoys to Ethiopia. But Ethiopia has said the envoys cannot meet with the TPLF leaders.
"This conflict is already seriously destabilizing the region," European Union foreign policy chief Josep Borrell said Tuesday after meeting with Ethiopia's foreign minister.
"Both sides should immediately begin dialogue facilitated by the AU," the national security adviser for U.S. president-elect Joe Biden, Jake Sullivan, tweeted.
The Tigray regional leader, Debretsion Gebremichael, could not immediately be reached Wednesday as tensions were high among Mekele's residents.
The TPLF dominated Ethiopia's government for more than a quarter-century, but was sidelined after Abiy took office in 2018 and sought to centralize power. The TPLF opted out when Abiy dissolved the ruling coalition, then infuriated the federal government by holding an election in September after national elections were postponed by COVID-19. Each side now regards the other as illegal.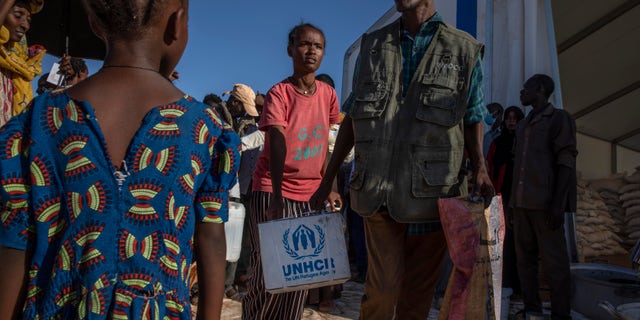 One Ethiopian military official claims that more than 10,000 "junta forces" have been "destroyed" since the fighting began on Nov. 4, when Abiy accused the TPLF of attacking a military base. Col. Abate Nigatu told the Amhara Mass Media Agency that more than 15,000 heavy weapons and small arms had been seized.
The international community has urgently called for communications to be restored to the Tigray region so warring sides' claims can be investigated, and so food and other desperately needed supplies can be sent as hunger grows. The U.N. says it has been unable to send supplies into Tigray and that people there are "terrified."
Hundreds, perhaps thousands, of people have been killed in three weeks of fighting. More than 40,000 refugees have fled into Sudan. And nearly 100,000 Eritrean refugees at camps in northern Tigray have come close to the line of fire.
Misery continues for the refugees in Sudan, with little food, little medicine, little shelter, little funding and little or no contact with loved ones left behind in Tigray. "We are absolutely not ready," said Suleiman Ali Mousa, the governor of Qadarif province.
"Help us so that we don't die," said one refugee, Terhas Adiso. "We came from war. We were scared we were going to die from the war and we came here. We don't want to die of hunger, disease. If they are going to help us they need to help us quickly. That's all I am going to say."
Meanwhile, reports continue of alleged targeting of ethnic Tigrayans, even outside Ethiopia. Three soldiers serving with the U.N. peacekeeping force in South Sudan were ordered home over the weekend, the force said in a statement. The Associated Press has confirmed the repatriated soldiers are Tigrayan.
CLICK HERE FOR THE FOX NEWS APP
"If personnel are discriminated against because of their ethnicity or any other reason, this could involve a human rights violation under international law," the statement said.
Abiy's government has said it aims to protect civilians, including Tigrayans, but reports continue of arrests, discrimination, house-to-house searches and frozen bank accounts.