Staff at Jerusalem hospital says it's collapsing under wave of COVID infections – The Times of Israel
https://www.timesofisrael.com/staff-at-jerusalem-hospital-says-its-collapsing-under-wave-of-covid-infections/
Medical staff and patients at a Jerusalem hospital said it is collapsing under the strain of the third wave coronavirus outbreak in Israel in a report published on Tuesday.
A Channel 12 news crew went into the sealed coronavirus ward of the capital's Hadassah Hospital Ein Kerem to report on the struggle to care for patients there amid a shortage of beds and equipment.

"The first wave was a shock for us because we weren't familiar with the disease. After a few shifts we said, 'Ok, I understand what's going on.' But the third wave has hit us hard," said Claudia Foji, a nurse in the intensive care unit for coronavirus patients. "We're at war," she said.
"The turnover here isn't fast enough. The beds don't stay empty for long. Every time, new sick people come in," said Anat Heretz, a social worker in the unit.
"This wave is much more complex. The sick people have more complications. The respiratory problems are more complex. The fear is in their eyes. It's not easy to see," said nurse Tehila Harel.
Earlier this month, a coronavirus patient died at Ichilov Hospital after the breathing tube for his ventilator detached and the overworked staff failed to notice for several minutes.
Harel said the Hadassah staff feared something similar could happen to them.
"We're always afraid, that we won't be able to see, we won't notice. It's a big department. There are 30 beds, and it's spread out," she said. "The fear is constant."
One of the patients in the ward, Yaffa Elimelech, was hospitalized at the beginning of last week and was still in intensive care. She told the news crew, "You can't breathe. I'm fighting for my life."
She derided Prime Minister Benjamin Netanyahu's push to distribute cash handouts to the public to cope with the economic fallout from the pandemic. Netanyahu's plan has been widely criticized and is not expected to be approved.
"There aren't any beds here, there's no equipment, people are being thrown into the hallways," Elimelech said. "I'm calling on the prime minister — you don't need to give people NIS 750 when all the hospitals are collapsing. If not for the medical team, I'm dead."
New virus variants have been blamed for the severity of the third wave outbreak, along with other factors, despite more than two weeks of a national lockdown. After hitting a peak of over 10,000 daily cases last week, the numbers continue to remain stubbornly high.
Israel's death toll reached 4,512 on Tuesday. More than one-quarter of the country's total COVID-19 deaths since the start of the pandemic have been registered this month alone.
The Health Ministry said 8,680 cases were diagnosed Monday, with the test positivity rate rising to 9.8 percent, one of the highest figures in more than three months.
Total cases since the start of the pandemic have reached 613,578, including 74,392 active cases. Of them, 1,174 are in serious condition. Tuesday saw more than 160 new serious cases, one of the highest daily rates since the pandemic began.
The lockdown rules are currently set to expire on Sunday, but the Health Ministry is expected to push for an extension of the current lockdown restrictions until infections start going down considerably, which is expected to be aided by a high rate of vaccination.
Officials do not see a possibility of reopening schools, the culture industry or businesses under the current conditions.
The outbreak rages as Israel's largely successful vaccination campaign moves forward. The Health Ministry said Tuesday night that 2,735,008 of Israel's population of 9.3 million have received at least one dose of the vaccine and 1,325,795 have received both shots. Israel leads the world by far in vaccinations per capita.
On Monday night, Israel shuttered Ben Gurion Airport to nearly all flights until the end of January due to fears over the coronavirus variants entering the country.
The airport closure began at midnight and will remain in effect until Sunday, January 31, when national lockdown measures are currently set to expire unless the government renews them.
It was the first time since the start of the pandemic that Israel prevented its own citizens from entering the country. Even new immigrants, who have continued to arrive during the pandemic despite limits on non-citizen entry, will have to wait until the shutdown ends to travel to the country.
The British variant of the virus is circulating widely in Israel, accounting for around half of recent cases, according to health officials. At least twenty-seven cases of a South African strain have been found in the country, in addition to four cases of a mutation originating in the US state of California. Officials fear the variants might prove resistant to the vaccines or mutate further to become resistant. The Israeli government's precautions come as studies indicate the Pfizer and Moderna vaccines offer protection from the variants.
In what appears to be a world first, the Health Ministry on Tuesday issued a directive in favor of vaccinating children under the age of 16 who are at high risk of developing serious symptoms if they contract COVID-19.
The decision still must receive final approval from Dr. Boaz Lev, the health official tasked with delineating priority groups for the coronavirus vaccine. It comes against the backdrop of rising morbidity rates among children in Israel.
You're serious. We appreciate that!
We're really pleased that you've read X Times of Israel articles in the past month.
That's why we come to work every day – to provide discerning readers like you with must-read coverage of Israel and the Jewish world.
So now we have a request. Unlike other news outlets, we haven't put up a paywall. But as the journalism we do is costly, we invite readers for whom The Times of Israel has become important to help support our work by joining The Times of Israel Community.
For as little as $6 a month you can help support our quality journalism while enjoying The Times of Israel AD-FREE, as well as accessing exclusive content available only to Times of Israel Community members.
California To Give 40% Of Vaccine Doses To Vulnerable Areas – HuffPost
https://www.huffpost.com/entry/california-vaccine-doses-vulnerable-areas_n_6040aafcc5b6ff75ac4198d7
SACRAMENTO, Calif. (AP) — California will begin setting aside 40% of all vaccine doses for the state's most vulnerable neighborhoods in an effort to inoculate people most at risk from the coronavirus and get the state's economy open more quickly.
Two officials in Gov. Gavin Newsom's administration shared details Wednesday on condition of anonymity.
The doses will be spread out among 400 ZIP codes with about 8 million people eligible for shots. Many of the neighborhoods are concentrated in Los Angeles County and the Central Valley. The areas are considered most vulnerable based on metrics such as household income, education level, housing status and access to transportation.
Once 2 million vaccine doses are given out in those neighborhoods, the state will make it easier for counties to move through reopening tiers that dictate business and school reopenings.
Right now, a county can move from the most restrictive purple tier to the lower red tier based on several metrics, including having 7 or fewer new COVID cases per 100,000 people per day over a period of several weeks. That metric will change to 10 new cases or fewer. In the red tier, businesses such as restaurants and gyms can open for indoor services at limited capacity.
Also in the red tier, schools that want to access new state funding must provide in-person learning for students in transitional kindergarten through grade 6 and at least one grade each in middle and high school.
About 1.6 million vaccine doses already have been given to people in those 400 ZIP codes, and the state will hit the 2 million mark in the next week or two, officials said.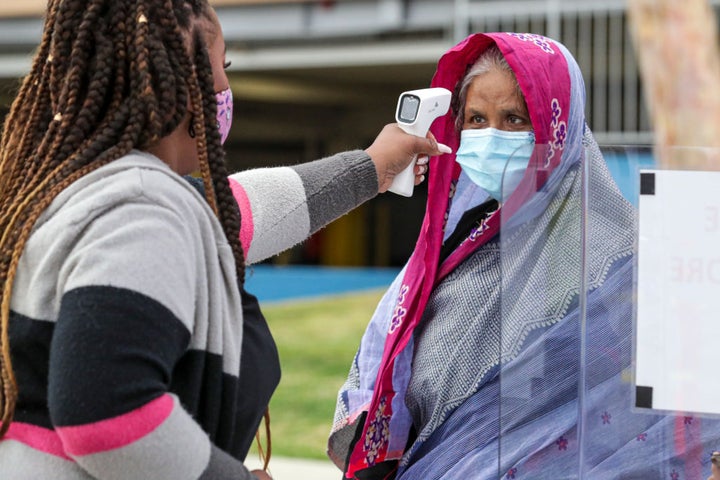 Once the state gives out 4 million doses in those neighborhoods, it will revise the metrics for getting into the even less restrictive orange and yellow tiers.
Newsom has called equity the state's "North Star." Yet community health clinics focused on serving low-income and vulnerable Californians say they haven't been getting enough doses.
The changes mark a fresh round of twists in California's vaccination and reopening plans. People age 65 and over, farmworkers, educators and emergency service workers are also eligible for shots.
More counties have already been moving into the red tier as caseloads, hospitalizations and deaths drop. The state's average 2.2% test positivity rate over 7 days is a record low.
Officials are making it easier to move through reopening tiers, arguing the likelihood of widespread transmission that can overwhelm hospitals will decrease as more people are vaccinated. That's particularly true as the most vulnerable populations that are more likely to get seriously ill receive the shots.
While race and ethnicity are not explicit factors in designating vaccinations, the 400 vulnerable ZIP codes overlap heavily with neighborhoods with higher populations of Blacks, Latinos and Asian and Pacific Islanders, officials said.
Los Angeles County could move into the next phase of reopening with fewer restrictions as early as next week, though any actual lifting of coronavirus-related constraints would not happen immediately, county officials said earlier Wednesday.
Most San Francisco Bay Area counties have advanced to the next phase, which allows restaurants and movie theaters to open indoors at 25% capacity and gyms to operate at 10% capacity.
Calling all HuffPost superfans!
Sign up for membership to become a founding member and help shape HuffPost's next chapter