The Out-of-Touch Adults Guide to Kid Culture: Sweater Weather Edition
https://lifehacker.com/the-out-of-touch-adults-guide-to-kid-culture-sweater-w-1845524435
Internet Culture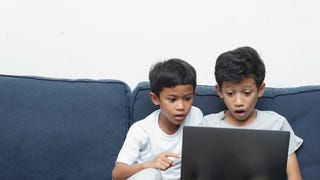 Internet Culture
It's hard to keep up with internet culture, but don't worry: Each week we'll tell you the best of what you need to know.
Starbucks is selling pumpkin spice lattes. The days are getting shorter. America is slipping into a chaotic death spiral from which it may never recover. In other words, it's fall! So put on a cozy sweater and get ready for an Out of Touch Guide that's positively autumnal.
Surprise trend of the week: Voting
If you hear a bunch of older teenagers talking about the new trend of "voting," don't be alarmed and call the police: It's a harmless fad that should pass in a week or so. But for now, kids are having depraved voting parties all over the country and "go vote, fam, it's totes lit!" messages are all over Instagram, TikTok and BingBong (I made that one up).
Weirdly enough, it actually seems to be working. According to the LA Times, more than 6.8 million people between 18 to 29 have already "rocked the vote" (from MTV? Remember that shit?) in person or by mail. That's a 2.5-fold increase over 2016. It's impossible to tell yet, but in a close state like Texas or Florida, increased youth turnout could turn the entire election. As you've probably guessed, political analysts expect the vast majority of young people to vote for Kanye West, because he is a rapper. (Not really. They are expected to vote for Joe Biden, who is also a rapper.)
National yarn shortage blamed on TikTok; grandma, playful cats inconsolable
I love reporting on the dangers and panics of TikTok. This week, the freak-out is yarn-based. My ace TikTok spy, my teenage niece Claire, pointed me to a national shortage of chunky yarn caused by TikTok influencers. So what are the kiddies doing with all this yarn? Are they getting high with it somehow, using it to cyber-bully each other, or just trying to piss off playful kittens? Nah, the kids are using it to knit.
G/O Media may get a commission
Apparently, "arm-knitting" (that's knitting without the needles) is the hot thing on TT, and it's such a popular trend that bulky, thick yarn is sold out in craft stores all over the country. As far as fall trends go, it makes sense: Time consuming, you can do it inside, and you end up with a nice, warm blanket at the end. Cozy!
Viral video of the week: Among Us as a reality show
I promise I'll stop talking about Among Us soon, but before I do, please enjoy this video parody that imagines Among Us as a TV reality show. The product of YouTube comedy collective Laugh over Life, the video features jokes you will not understand unless you play Among Us and a bunch of over-the-top "cameos" from pop culture icons like Jason "Friday the 13th" Voorhees and Buzz Lightyear. It's been viewed nearly 4 million times in the last few days.
This week in video games: Watch Dogs: Legion
Watch Dogs: Legion is the biggest release in video games this week by far. It's a huge, immersive, innovative open-world action thing—the perfect game to start playing, and keep playing. It will keep gamers amused until winter is over or until we find a vaccine or until the earth slips out of its orbit and heads toward the sun. Set in a near-future, dystopian London, Watch Dogs: Legion lets you recruit any person you'd like into your gang, then use them to complete missions and whatnot. Basically, the entire city is the protagonist in a story where the people use technology to jam the culture of their corporate overlords and restore humanity, one hack at a time. Play it on your Microsoft Xbox One or you PlayStation 4 from the Sony Corporation. (But don't copy it and share it. That's illegal!)
This Week in TV: The Mandalorian returns
The kids in your life probably don't even know that there was a time in the recent past when television networks would wait until Fall to put out all the shows, instead of just releasing them on some random day. The release of season two of The Mandalorian on Disney+ is a throwback to the days when TV releases were events. This is the kind of TV show that you can enjoy with everyone. It's not just for nerds, man. It's get-together-as-a-family and make eat some s'mores kind of TV, the best Star Wars since, well, Star Wars in the 1970s. Highly recommended.
The Life and Death of the Instagram Influencer Who Never Was
https://variety.com/2020/digital/global/ziv-schneider-idfa-doclab-sylvia-1234841619/
Instagram is full of wannabes, but there was only one Sylvia. Describing herself as a "coffee-operated robot living her best life," Sylvia was born in May 2020, made her online debut on July 4 at the age of 30, and passed away last week at the grand old age of 80.
Sylvia made a lot of friends in that brief window of time, saw a lot of people sliding into her DMs, and experienced everything a woman could in cyberspace, from protestations of love from middle-aged men to innocent requests for boy advice from 13-year-old girls. Much of this surfaced at an emotional online wake for Sylvia, which was held online as part of documentary festival IDFA's new media strand, after Ziv Schneider's art project had its world premiere in the DocLab Competition for Digital Storytelling.
One of the inspirations for Schneider's creation was Lil Miquela, a 19-year-old Brazilian-American girl who appeared out of nowhere in 2016 and quickly amassed over a million followers on Instagram before modelling for luxury brands like Calvin Klein and Prada and branching out into music, releasing a single just a year later. The fact that Lil Miquela had, in such a short space of time, joined the ranks of the internet's controversial "influencers" wasn't what drew Schneider's eye, it was more that she managed to achieve so much simply by being young, pretty and without aging a day. "My issue was primarily with the design of the virtual influencers," says Schneider, "and, as we start to see more virtual beings among us, what that means about how we will start to perceive our own bodies, our own aging, and our own human experiences."
Variety talked to Schneider in the virtual space that DocLab created for Sylvia's memorial…
What was the starting point for this project?
I work as a creative technologist and a researcher at the Brown Institute for Media Innovation at Columbia University [in New York], which has been very supportive. We're based in the journalism school, and my work there is mostly tied to journalism. For this project, we'll be writing and drawing conclusions about it, but it's not directly tied [to journalism]. However, I am looking into immersive technology for journalism and also synthetic media, so those are two areas that I'm very interested in. When I began, I mapped out everything that I was interested in, and I saw that virtual influencers were something that I was really interested in looking into in a more in-depth way. I'm really fascinated by this world—and not so much in a positive way.
Why not?
A lot of virtual influencers are presented, in a misleading way, as robots and AI, and they're completely not. They're rendered, puppeteered CGI characters. And another thing is the issue of how they're being portrayed. I guess the idea behind this, the business model, is that you can design a human being and use them to promote brands and basically make money off them forever. None of them had age designed into them. They were all designed to be very young, and none of them were changing. And I was just really curious about that: what would happen if we tested out this idea, first of all, of an older virtual influencer? That's where it started.
So what is Sylvia?
She's a hybrid. Her visual side is designed the way all other virtual influencers are, using Daz 3D and assets from that 3D modified with ZBrush, and garments rendered by Marvelous Designer—the whole process is the same. Her writing is partially generated, so every other image has computer-generated text that's modeled on influencer writing—to progress the story in a way that makes sense, it's my writing [that's] actually portraying her, but when she's looking at the world, the way she talks about it is computer-generated, essentially. [For that] we created a language model tweaked by the language of influencers, in general, that we collected. We scraped their texts and then created this [algorithm] that can write like an influencer, essentially. But it's also curated, in the sense that I generate a lot of different texts and then I select the one I'm going to use. But that's how a lot of the generative stuff is being done these days.
Why did you decide to make Sylvia age so quickly?
I wanted to do an experiment where you would see her age before your eyes—so you noticed the difference. I mean, we hardly ever see a whole adult life in one place, because we switch from one platform to another. The specific pace of that aging was impacted by the connection with DocLab and building towards [our exhibition slot in] November, because the idea of aging her then led to the idea of her dying, I decided that we could work in this time span to age her and then get to the point where she would die in November. That was the experiment that I decided on, partly because I also don't have a whole lifetime to [spend on this]. But it's also a comment on the fact that virtual influencers are chosen to be made super-real. There's all these tricks and illusions to make them seem real, but they're all going to live forever—none of them age.
Was it intended as a satirical comment on that world?
There was definitely a satirical element. I think the people that followed her at first thought that she was a parody, and there was definitely a lot of that. But it was also important for me that she would seem like just any other influencer, which is what the virtual ones are trying to do as a business model—seem like other [human] influencers, but computer generated. But the idea with Sylvia was that, slowly, you'd see that something was different, and slowly you'd see that she was starting to change—and then all of a sudden you'd understand that she was aging. There was definitely a satirical element in her, and especially in what she chose to post, but she wasn't just that. She was also people's friend. She was someone that we designed with a lot of love.
Is the project completed now? Are you done with Sylvia?
Yeah. Aside from signing out of her account and putting together a landing page with all the information, I think that the only part that I still want to do is write and reflect on it. I'm not going to do anything else with her. No reincarnation, no ghost animations.
Ziv Schneider would like to thank the team behind Sylvia:
Styling and Art Direction: Odie Senesh
Character Artist: Halime Maloof
Celebration Director: Bethany Tabor
Natural Language Processing: Alex Calderwood
Digital Installation Design & Development: Tong Wu
Music: Philippe Lambert
Aging Researcher: Alexa Fleet